Disaster & Emergency Services
Age Minimum (with Adult): 12+, Minimum Age:18+
Food Distribution & Drive Thru Prep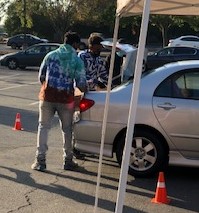 Greetings and welcome to fall! South Sacramento Christian Center is still currently distributing food every week and actively looking for volunteers to help us prepare groceries. *NOTE* We are also looking for drivers to help deliver to the elderly/disabled/sheltered in place community. Drivers must be 18 yrs or older, have a clean driving record, and a valid drivers license. If you are interested, please take a look at the task descriptions below and choose from any of the dates and times that work best for you. Be sure to leave your contact information so someone can respond to your inquiry as soon as possible. Thank you and we look forward to seeing you soon! (Updated 10/26/20)
As a volunteer in the food distribution center, your duties on Fridays will include (1) assembling bags (or boxes) of groceries, (2) light lifting (up to 10 lbs), (3) cleanup (sweeping, cleaning/sanitizing frequently used areas), and recycling (cardboard boxes). During your shift, you may be asked to assist in any one of the areas mentioned so being flexible is preferred.
On Saturday morning, you may be asked to assist with: (1) controlling the flow of traffic in the drive-thru (2) putting groceries in people's cars for them when they pull up (3) making more grocery bags (or boxes), and (4) resupplying/runner (keeping the drive-thru stocked with inventory)
We also have a delivery team to get groceries out to the elderly who are vulnerable, disabled, and/or sheltered in place due to COVID. To volunteer as a driver, you must possess a valid driver's license, a clean driving record, and be 18 or older.
Applicants, please be aware that we are actively practicing COVID safety according to CDC guidelines, protocols, and procedures. All volunteers will be prescreened EACH time they show up for their shifts. We ask that you wear a mask at all times for the duration of your shift and gloves when handling food. Disposable masks, gloves, and hand sanitizer will be available for volunteers during their shift.
NOTE: Due to COVID restrictions we are asking if you are 65 and older and are at high risk to COVID due to pre-existing health conditions to refrain from volunteering at this time, and please stay home.
STAY HEALTHY: If you are feeling ill or under the weather, we kindly ask that you reconsider volunteering and stay home. But feel free to contact us again once you are feeling better.
SOCIAL DISTANCING: Know that accommodations are in place to ensure proper space for volunteers to perform tasks while reasonably practicing social distancing.
* UPDATE * - We are also looking for bi-lingual volunteers to help us translate especially to our Vietnamese community during our distribution on Saturdays from 8 am - 10:30 am. If you are interested, please inquire from the date and times list below.
Please wait...
Log in or Register
In order to register for this opportunity you must log in to an existing account or register to create a new account.
Signup with team
This link allows you to participate in this opportunity with a team. When you click on the link you will have the option to:
Choose an existing team you're already a member or captain of, or
Create a new team to sign up.
Signup Questions
Please respond to the following questions in order to signup for this opportunity:
Please wait...
E-mail